SDK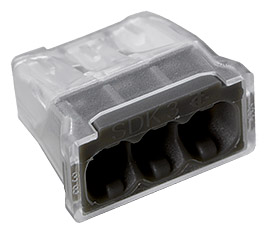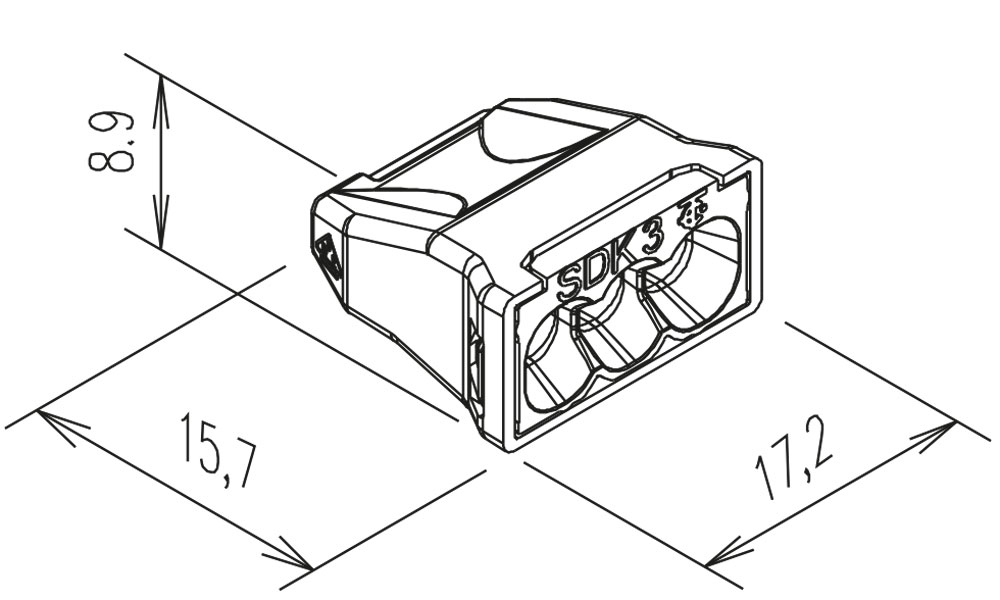 All advantages at a glance SDK
Clamping range: 0.5 mm² – 2.5 mm² for solid wires. 1.5 mm² – 2.5 mm² for rigid stranded wires.
A number of wire cross sections can be combined in one terminal.
Highly transparent viewing window for visual inspection of the clamping points means greater safety and reliability during installation.
Easy to plug in – high pull-out force.
Approvals
Technical data
Box type
291 x 201 x 202 mm
Max. ambient temperature
T90
Wire skinning length
8 + 1 mm
Clamping range
0.5 - 2.5 mm² solid
Art.Nr.
Material description
Length
Width
Height
88714701
SDK 3 LOSE ANTHRAZIT
17.2 mm
15.7 mm
8.9 mm

88713954
SDK 3 ANTHRAZIT
17.2 mm
15.7 mm
8.9 mm

88713967
SDK 5 ANTHRAZIT
26.0 mm
15.7 mm
8.9 mm

88714694
SDK 5 LOSE ANTHRAZIT
26.0 mm
15.7 mm
8.9 mm

88714710
SDK 8 LOSE ANTHRAZIT
39.2 mm
15.7 mm
8.9 mm

88713900
SDK 8 ANTHRAZIT
39.2 mm
15.7 mm
8.9 mm
Our Sales Partners
Order now or get additional information about these products from our local sales partner
ELECTRO TERMINAL GMBH & CO KG
Archenweg 58
6020 Innsbruck
Tel: +43 512 3321
Fax: +43 512 3321 81